Latest Events
Boys Football Match - 22nd May
Well done to the boys football team who worked hard throughout their match against St. Mary's. The final score was 5:1 to St. Mary's but St. Mark's played really well.
Crucial Crew Competition Winner - 19th May
Well done to Summer in Year 6 who won a poster competition after attending Crucial Crew in March. Summer was awarded her prize by P.C. Magnall in today's assembly.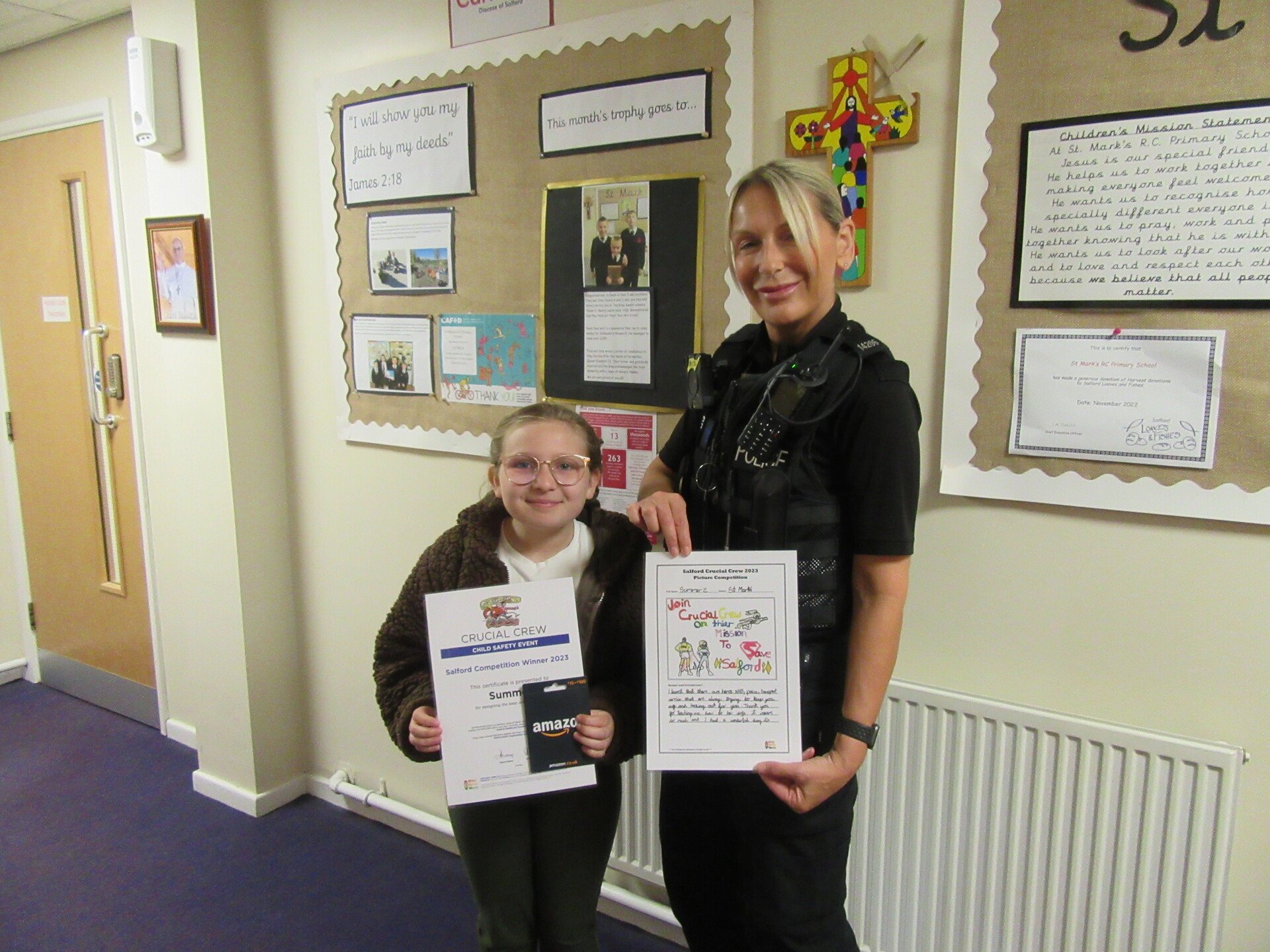 Girls Football Match - 19th May
Congratulations to our St. Mark's girls football team who played against St. Theresa's and won 4:0 - fantastic!
Coronation Day Celebrations - 4th May
The children had a wonderful day celebrating King Charles III's coronation. During the morning, the whole school took part in a coronation parade on the school field, we celebrated mass together and then the Year 5s led a special assembly where they acted out the coronation ceremony, explaining all of the key parts and their meaning. At dinner time, parents and carers were invited to join the children on the field for our 'Big Lunch'. Later in the afternoon, we had our own ceremony in which we buried a time capsule in the playground which was filled with items chosen by staff and pupils to represent life at St. Mark's at this time in our history. What a fantastic way to celebrate the King's coronation together at St. Mark's!
St. Mark's Feast Day - 25th April
Today is the feast day of St. Mark. As well as being the patron saint of our school, St. Mark is also the patron saint of Venice in Italy. To celebrate the feast day, the children had an Italian-themed dinner outside with lots of flags and even some Italian music!
Years 2 and 3 Trip to RHS Bridgewater - 21st April
On Friday, Years 2 and 3 had an exciting trip to RHS Bridgewater. To see what each class got up to, go to their year group page and click on the link.
Caritas Social Teaching Award Winner - Spring 2 Half Term
Congratulations to Noah in Year 5 and brothers Fred and Stan (Years 4 and 1) who are this half term's winners of the Caritas Social Teaching Award. For more information about the award and what they did to win it please click here.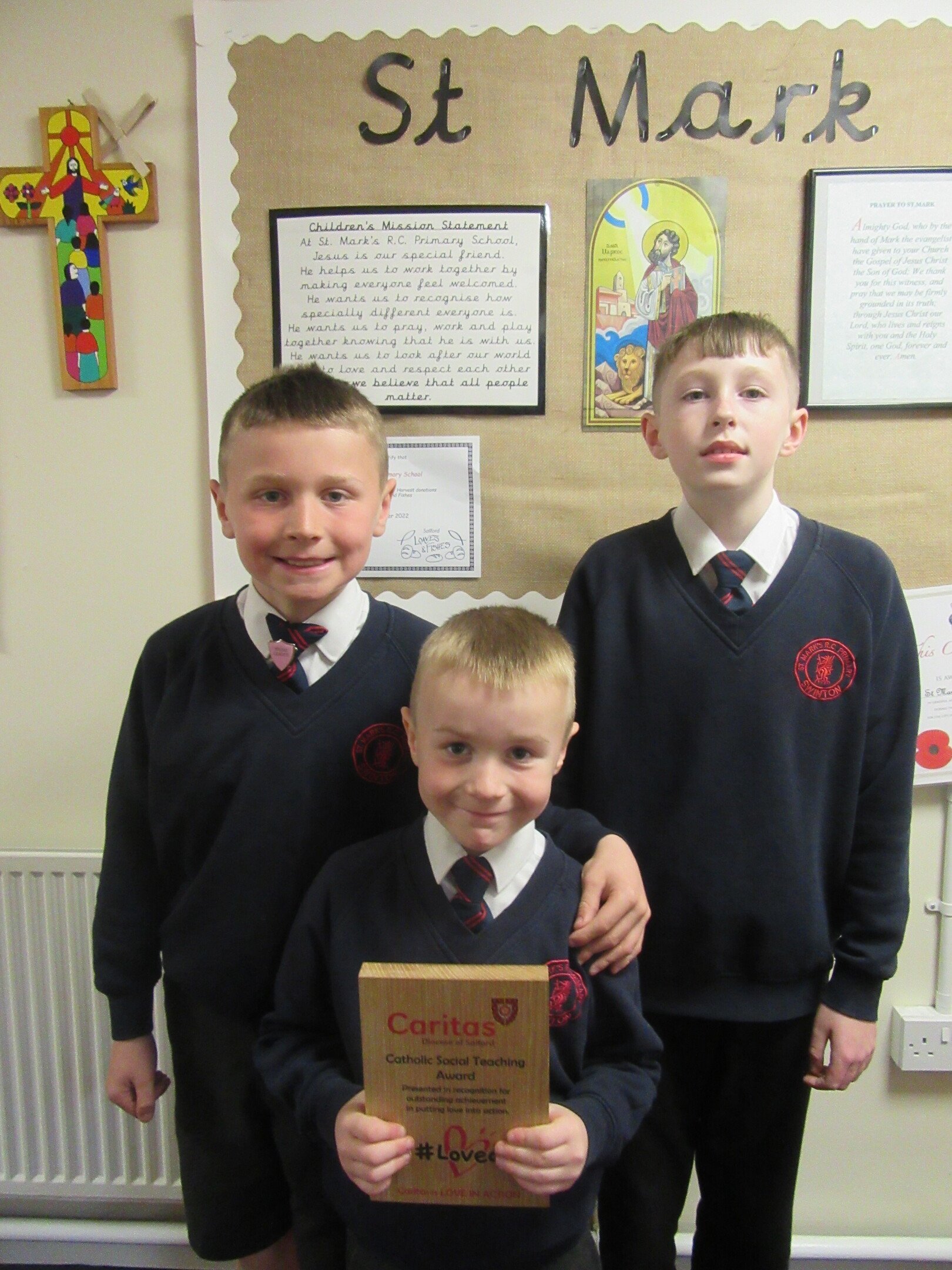 Turkey and Syria Earthquake Appeal
A huge THANK YOU to everyone who donated money for the Turkey and Syria Earthquake appeal. Our Young Leaders arranged a week of fundraising activities last half term and thanks to everyone's generous contributions we raised an incredible total of £2769.32. All of the money raised will go towards helping those affected by the earthquakes.
Here are our Young Leaders with the certificate we received from CAFOD for our donation: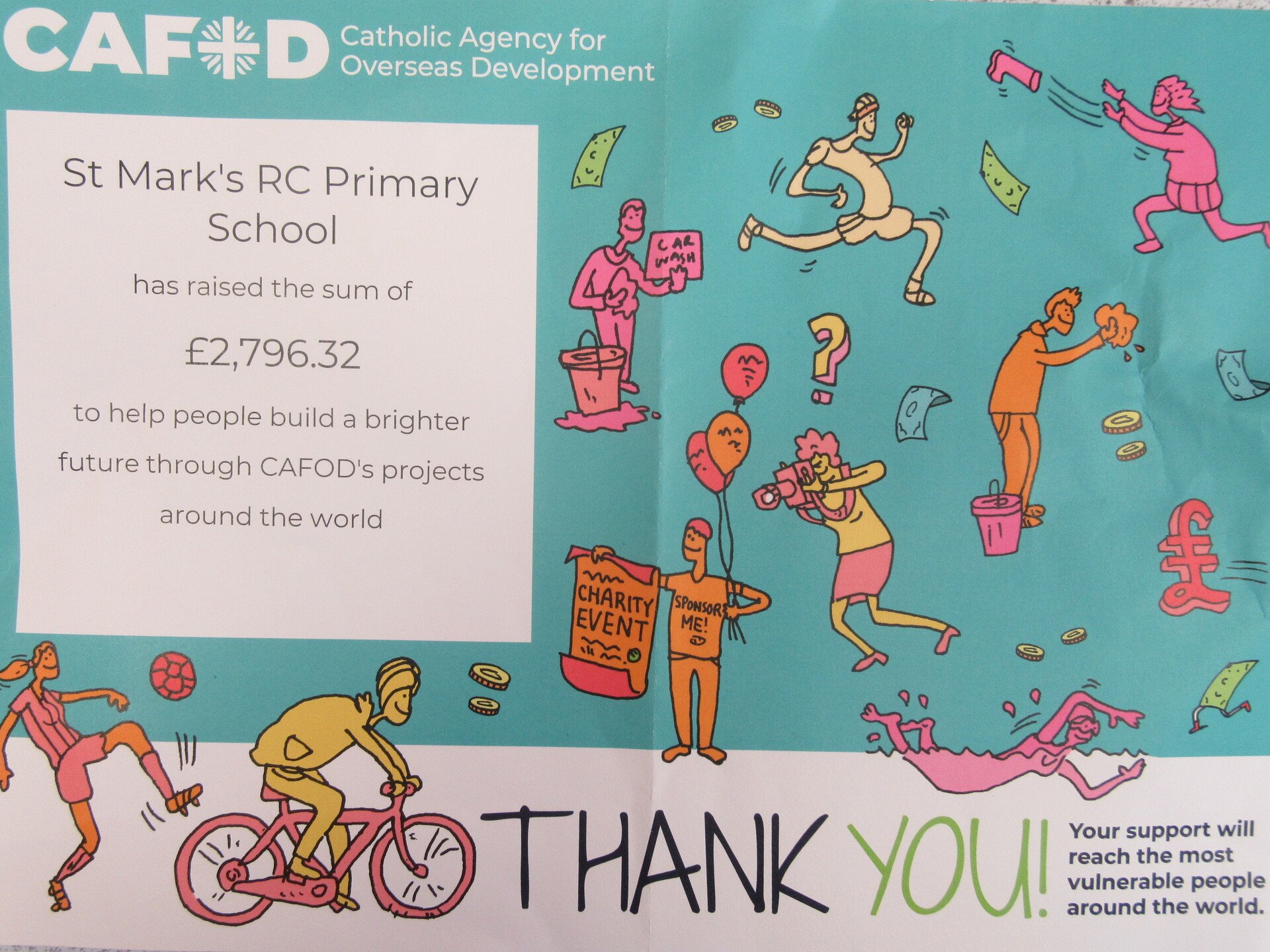 5p Trail - 4th April
During Lent children have been collecting 5ps as part of our Lenten fundraising. Today all the classes laid out their 5ps on the playground and counted them up to see which class had collected the most. Congratulations to Year 1 who raised the most money by bringing in a whopping £160 in 5ps! Well done to all the classes for your fantastic contributions.
Afternoon Tea With Miss Garner
Some of the children who have won a prize for their excellent attendance throughout this year enjoyed "Afternoon Tea With Miss G." this week. Well done everyone!
Netball Match - 23rd March
Well done to our netball team who played brilliantly against James Brindley Primary School on Thursday. It was a close match and the final score was 4:2 to James Brindley but our team really did us proud!
Wild Hair Day - 21st March
As part of our Lenten fundraising, the children were invited to come in to school with wild hair! We had lots of creative styles and all the money raised will be going to St. Joseph's Penny.
Opera Workshop - 20th March
A group of children from Year 6 had a trip to the Bridgewater Hall this week to take part in an opera workshop run by Streetwise Opera with the help of musicians from the Philharmonic Orchestra. The children also had the opportunity to watch nine micro-operas co-created and performed by people with experience of homelessness.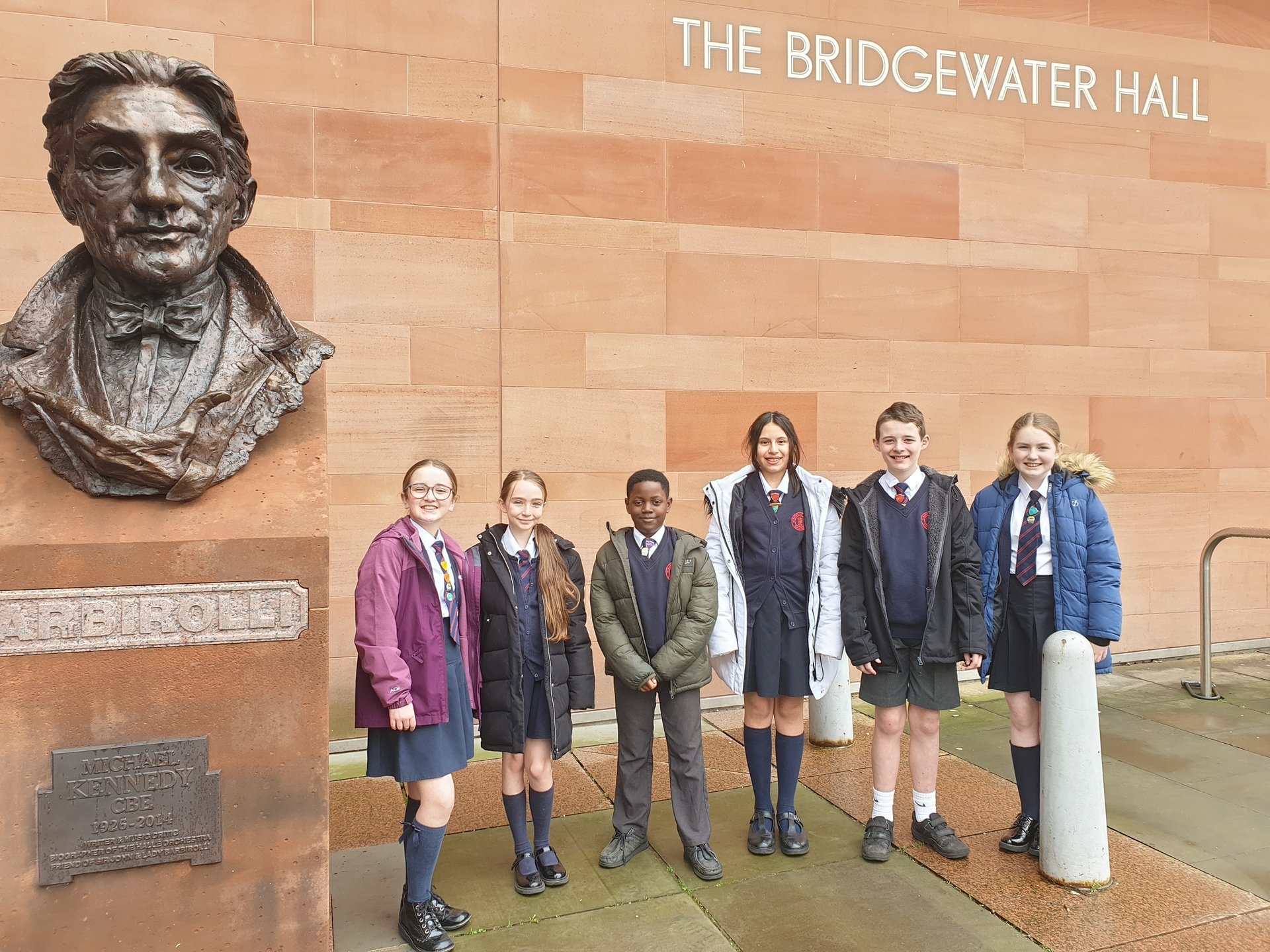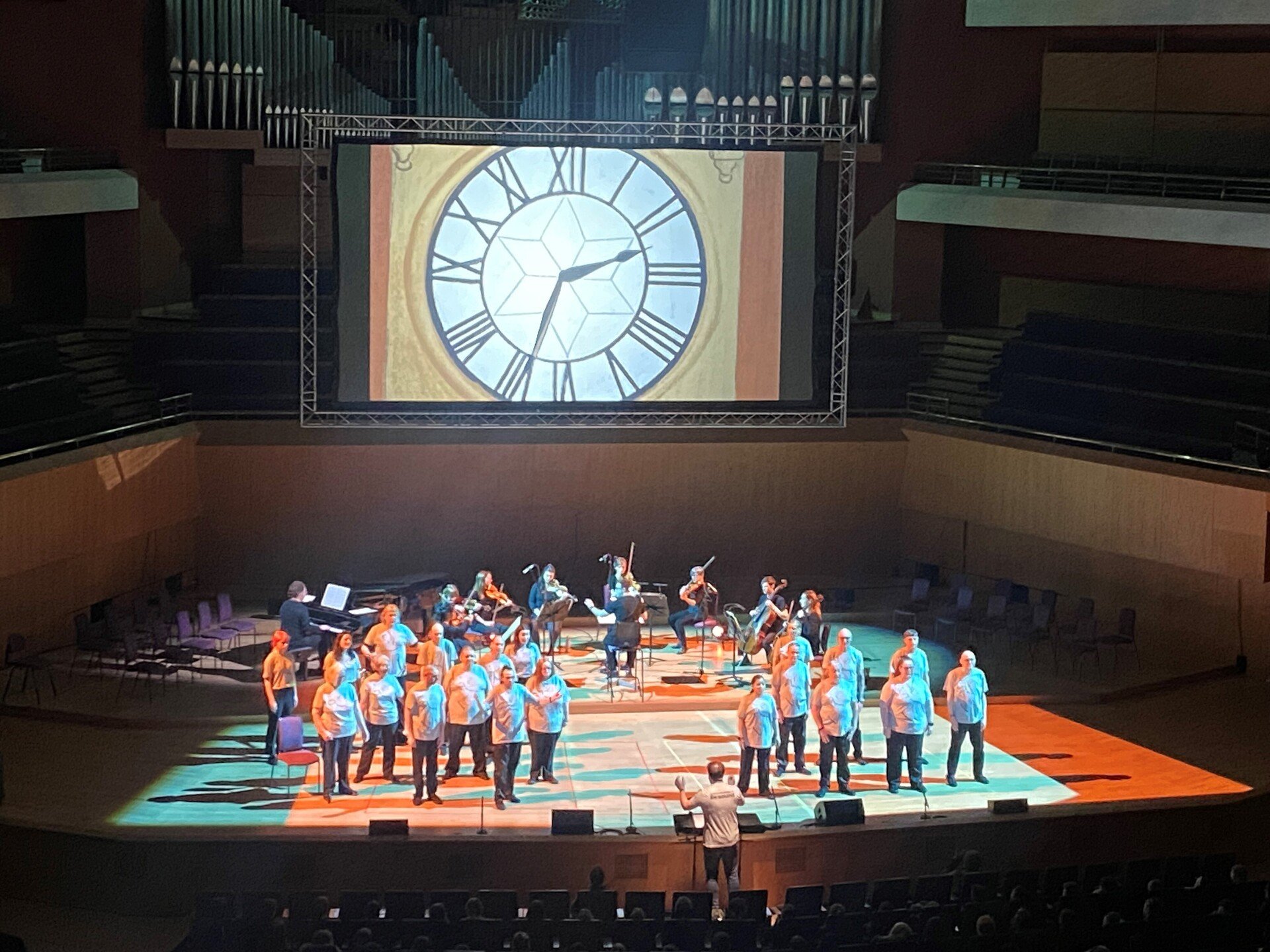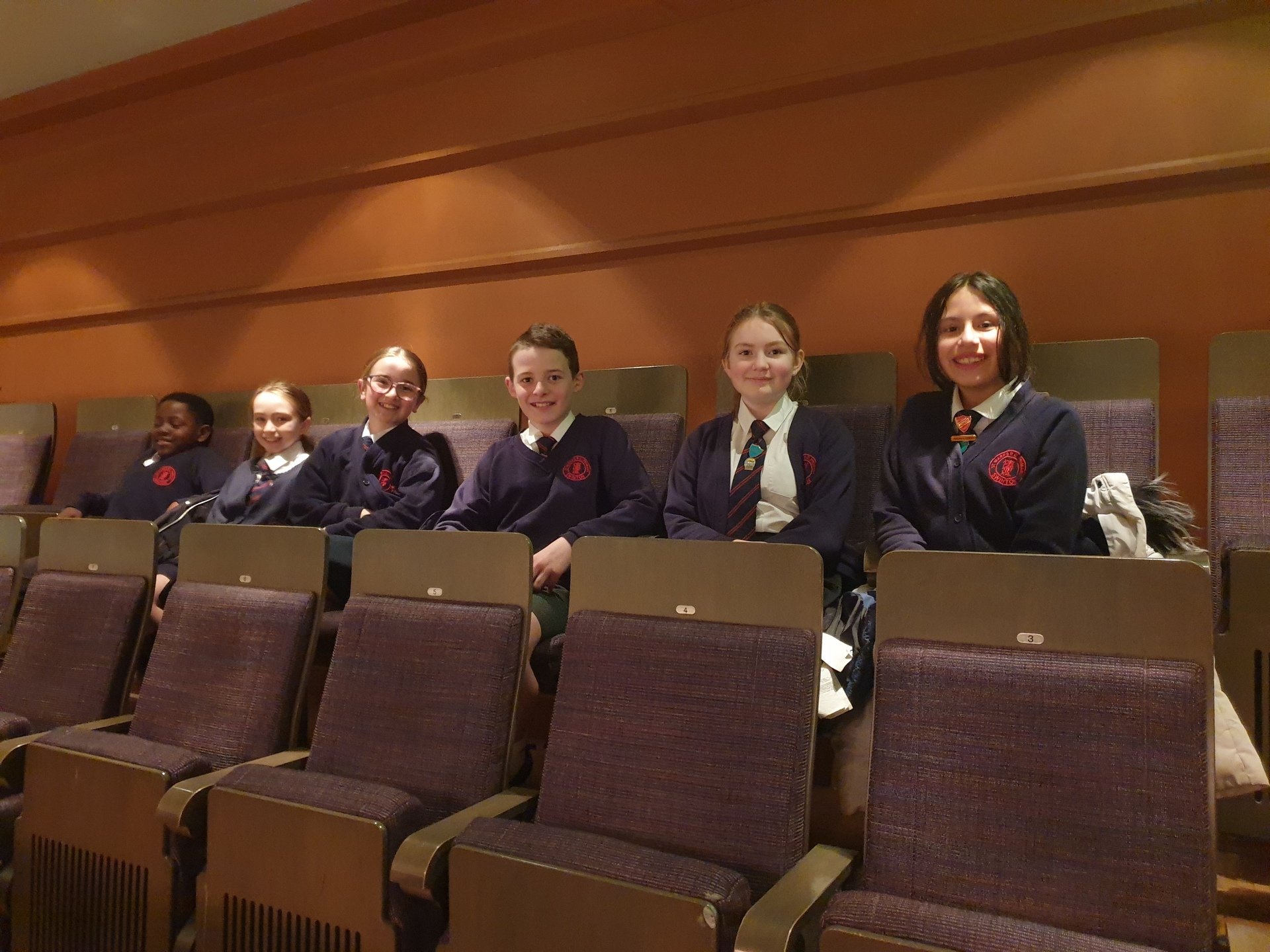 World Book Day 2023
This year, St. Mark's had a wonderful World Book Day with a heroes and villains theme. Staff and children came in some incredible costumes and everyone had fun showing them off on the catwalk during assembly. After discovering that someone had stolen Maleficent's wings, the children set about trying to decide who the culprit was and later on some of the suspected villains on trial! Thankfully, Maleficent was eventually reunited with her wings and everyone lived happily ever after!
The children were treated to a number of surprise guests throughout the day. After appearing on the school roof Spiderman amazed us all with some unbelievable acrobatics before visiting each class. Sleeping Beauty also paid everyone a visit and wowed us with her magic. Then two extremely tall and beautifully elegant butterfly fairies returned Maleficent's wings. A fantastic day was had by all. Take a look at some of the fun we got up to...
Year 6 Trip to Crucial Crew - 13th March
On Monday, the Year 6s went to Crucial Crew to learn about life skills that will enable them to keep themselves and others safe. The children attended workshops such as how to keep safe in public spaces, safety around water, safety on public transport as well as the importance of keeping your mind and body healthy. Here are some of the things they got up to...
Year 5 Trip to St. Ambrose Barlow R.C. High School- 13th March
On Monday, the Year 5s went to St. Ambrose Barlow and spent the morning in the art department. The children enjoyed creating art based on the work of the English artist, Jon Burgerman, who uses doodles to create his drawings. Take a look at what they got up to...
Caritas Social Teaching Award Winner - Spring 1 Half Term
Congratulations to Isla in Year 6 and Mireille in Year 1 who are this half term's winners of the Caritas Social Teaching Award. For more information about the award please click here.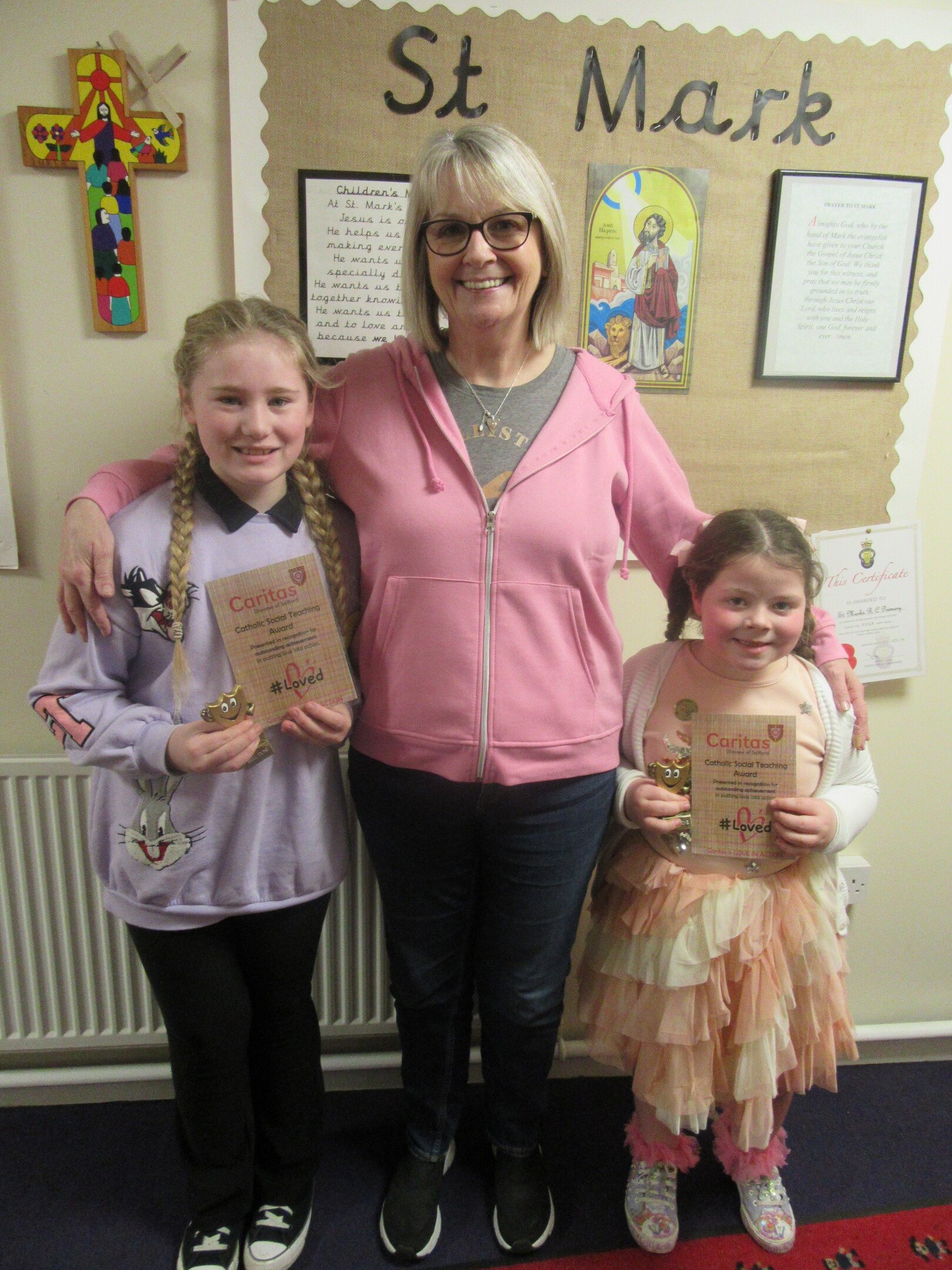 Football Matches - 24th February
A big well done to our girls and boys football teams who played against Brentnall on Friday. The girls team drew 2-2 on penalties and the player of the match was Bella G in Year 6. The boys team won their match with a final score of 6-2 on penalties and the player of the match was Freddie in Year 4.
Girls Football Match - 13th February
Congratulations to the girls football team who played on Monday and won 3-0. Bella G scored a goal and Aoife was named 'player of the match' after scoring two goals. Coach said they all played really well!
Safer Internet Day - 8th February
On Wednesday we had our Safer Internet Day. This year's theme was "Let's Talk About It" and the children spent the day learning about the importance of keeping safe online through various discussions and activities. Each class took part in a competition to create their very own Safety Superhero. Congratulations to Year 2 who won the competition with their Superhero - Cyber Steve - who was equipt with lots of super powers to help keep people safe online, as well as a very colourful costume!
Caritas Social Teaching Award Winner - 19th December
Congratulations to Katie-Mai in Year 5 who is this half term's winner of the Caritas Social Teaching Award. For more information about the award please click here.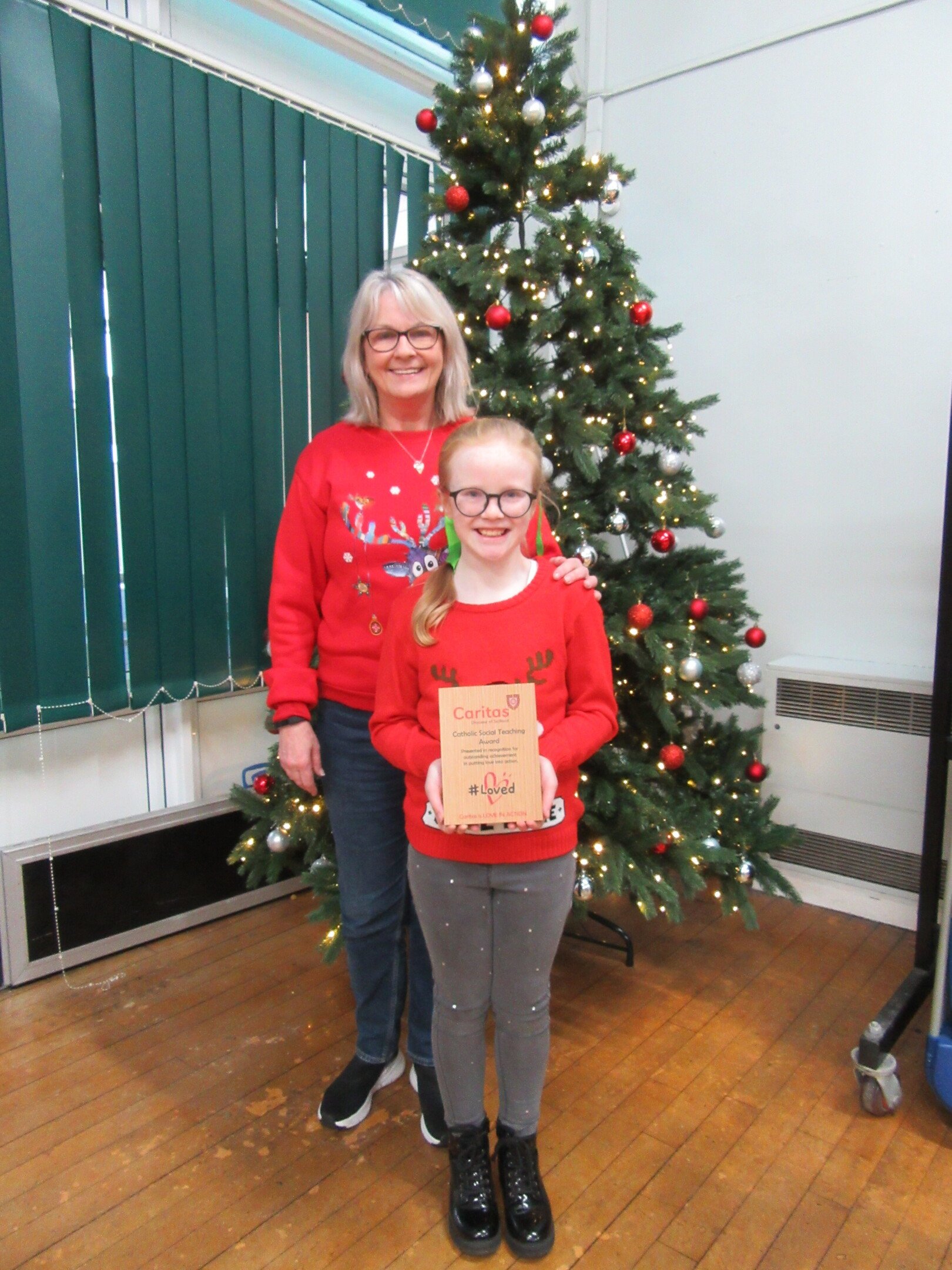 Carol Singing at Waterside - 19th December
On Monday, the Year 6 choir went to the Waterside, a resource centre for adults with learning disabilities, to sing Christmas carols for the the adults and carers who attend the centre. The children sang beautifully and a thoroughly good time was had by all who attended. Well done Year 6!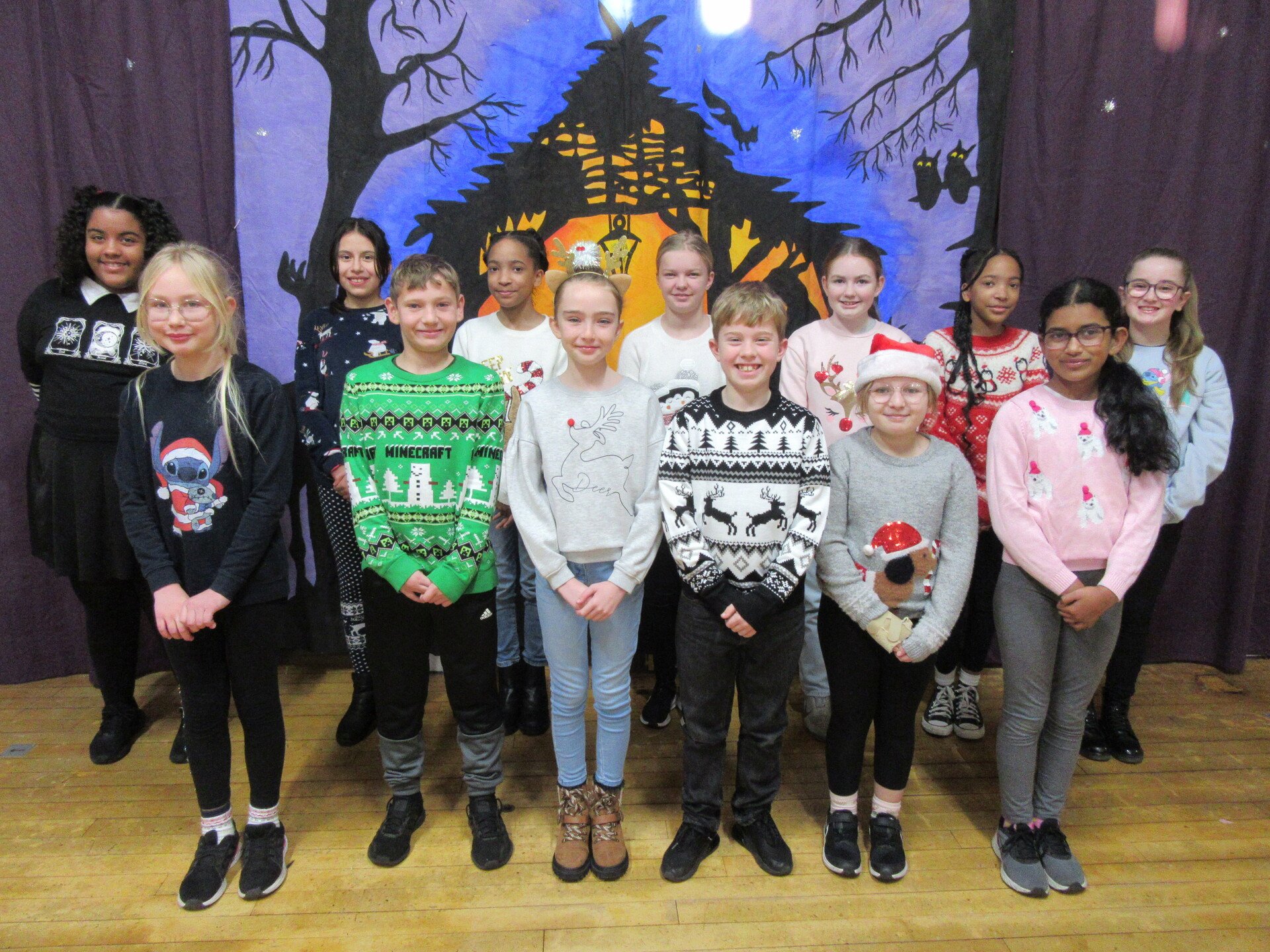 Christmas Celebrations - December
The children have been very busy in school with various Christmas events over the last few weeks: Key Stage 2 began our celebrations with a very reverent and moving Advent Service; Nursery and Reception delighted parents with a very merry Christmas Sing-Along; Years 1 and 2 retold the Nativity story beautifully in their production of 'Whoops-A-Daisy Angel' and Key Stage 2 hosted a fun and festive 'Carols and Mince Pies' afternoon. It has been so lovely to be able to invite parents and families back in to school to watch the children perform. We hope you have all enjoyed it as much as we have!
Netball Match - 11th November
St. Mark's netball team played a tough match against Wardley Primary school on Friday. The final score was 3:0 to Wardley but St. Mark's played a fantastic game and showed real sportsmanship. Well done team!
Netball Match - 19th October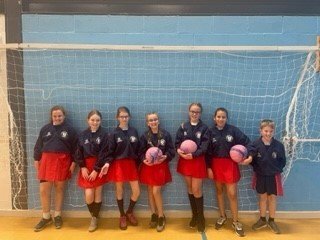 Congratulations to our netball team who won their first match of the league against Bridgewater Primary on Wednesday. The final score was 1:0 with the winning goal being scored by Esmee. The team had a brilliant match and made us all very proud!
Harvest Assembly - 14th October
On Friday we celebrated our Harvest Assembly and offered our donations for the Loaves and Fishes Centre in Salford.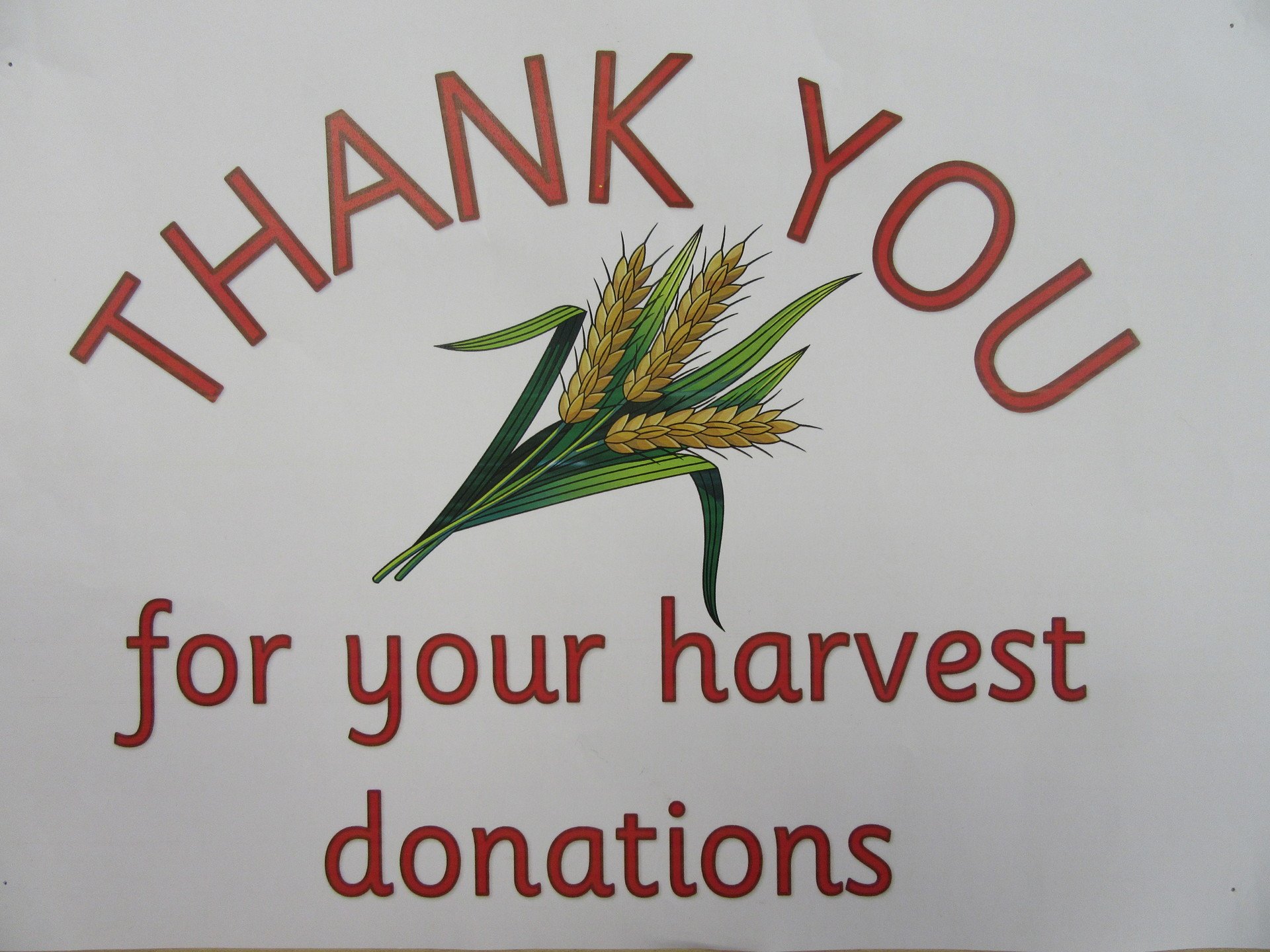 Click here to read prayers written by our new chaplains.
Manchester United Football Tournament - 22nd September
Well done to our team of Year 3 children who took part in a football tournament run by Manchester United at the Cliff training Ground. The children came 5th out of 8 and their excellent behaviour was commented on by the coaches.
Swintonbury - 20th July
St. Mark's first ever summer festival was an absolute hit! The children had a fun-filled day in the sunshine. In the morning, the children enjoyed the stalls and games on the field, singing around the campfire, and having their nails and faces painted. After a lunchtime picnic, the whole school came together on the field to dance and sing the afternoon away to some live music acts and even had a surprise visit from the ice cream man! Take a look at what we got up to below...
Dance Festival Videos
Click here to see the videos from this year's Dance Festival.
Dance Festival - 13th & 14th July
This week saw the return of the St. Mark's Dance Festival. The children were so excited(and a little nervous too!) to perform for their families, especially since it was the first time for years 3, 4 and 5. Everyone had a thoroughly wonderful time and we can't wait to do it all again next year! Take a look at some of the dances below...
First Holy Communion - 25th June
Congratulations to our year 3 children as well as Logan and Niah, who made their First Holy Communion this afternoon at St. Mark's Church. It was a lovely mass and the children all looked wonderful!
Jubliee Celebrations
This week we have had lots of fun celebrating the Queen's Platinum Jubliee:
Classes have made colourful Jubliee decorations to hang in their classrooms this week. The children have been given the opportunity to have their photograph taken on the St. Mark's throne wearing a golden crown and were then given a commemorative keyring to take home.
On Thursday, each year group were asked to come in dressed in the fashion of different decades in honour of each decade the Queen has reigned our country. After a song-filled celebration assembly, the children enjoyed a 'Jubliee Tea Party' for their dinner.
On Friday, children were asked to dress in red white and blue and bring in their own homemade crowns. Parents were invited onto the school field to watch the children parade in their crowns.
A fantastic week has been had by all!
Take a look at what the children have been up to...
Easter Celebrations
We've had lots of Easter fun this week. Take a look at the video below to watch the children taking part in the Easter Bonnet Parade, 5p Trail and Easter Raffle.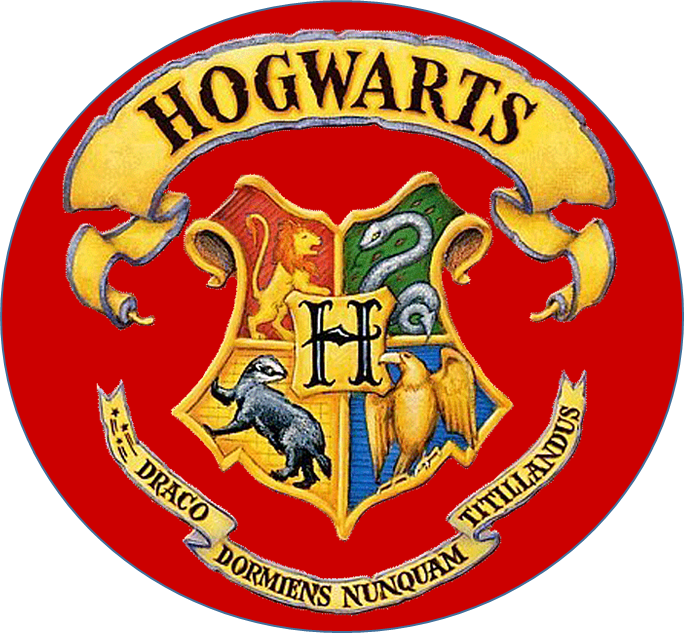 World Book Day 2022
This year St. Mark's had a Harry Potter themed World Book Day full of magic and fun. The children attended an assembly in the Great Hall with a sorting hat ceremony; solved riddles and cast a spell to retrieve Dumbledore's stolen wand; had a visit from a magician; and watched an owl display on the field! Take a look at the video below to see what the children got up to...
____________________________________________________________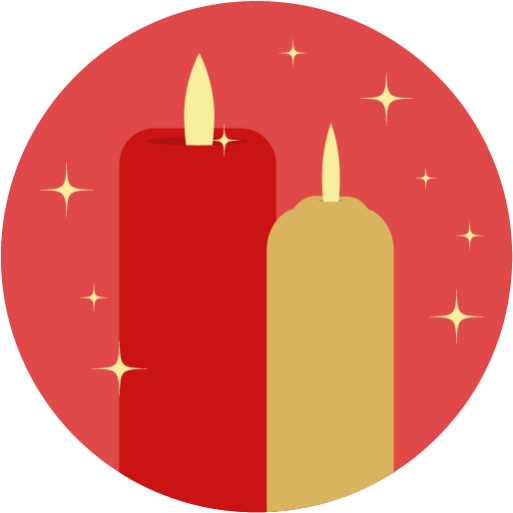 Click here to watch our Advent and Christmas Celebration videos.